San Leonardo
We consider it a privilege to represent the wines from the great Trentino estate of San Leonardo, where Dave and Mark recently paid a visit during their sojourn to Italy last autumn. Upon imminent release of their sensational 2017 vintage, we thought it would be timely to profile the estate and celebrate the significance of their wines.
These wines represent a rarity within the winescape of Trentino, a region which typically produces fresh, unoaked white wines from large co-operatives who contribute to over 80% of total production in the area.
In contrast, the estate of San Leonardo is lucky to boast over 26ha of privately-owned vines, all farmed organically. To put this into context, the average vineyard holding in Trentino is a tiny 1.2ha. The wines of San Leonardo are made from grapes grown entirely on their estate – and as a result the wines are full of typicity and wonderfully express the terrior. These wines truly represent a real sense of place, purpose, and history.
The vines at the estate are pruned immaculately, high off the ground, in the guyot fashion to protect against frost and support a smaller crop of greater quality fruit. The vineyards begin at 150m above sea level at the foothills of the Dolomites so winters are cold and snowy here and the backdrop is breath-taking. Summertime is warm and dry with intense sunlight and thus, the climate is one of extremes and the wines reflect this.  Although they have been called the "Super Tuscans" of Northern Italy by the likes of Jancis Robinson, they express their own individuality. The family's winemaking pioneer Carlo Guerrieri Gonzaga was very much influenced by the wines of Sassicaia where he spent some years honing his craft. The next obvious step for the young winemaker was to produce a wine in Trentino from Bordeaux grape varieties that would equal any Super Tuscan.
Cabernet Sauvignon, Merlot and Carmenère constitute the red blends. Carmenère, a peppery dark coloured variety, is permitted by the DOC regulations, which is unusual considering the grape's not-so-positive reputation for a tendency to produce unripe aromas. However, the unique climatic conditions here, namely the long sunny autumns, gives the variety that extra hang time it needs to ripen through to completion.  Carlo Guerreri Gonzago released San Leonardo's first wine in 1982 and the estate has received critical acclaim ever since. The estate more recently has been managed by his son and our dear Friend Anselmo Guerreri Gonzago. Here are three wines we recommend, starting with a very refined Sauvignon Blanc.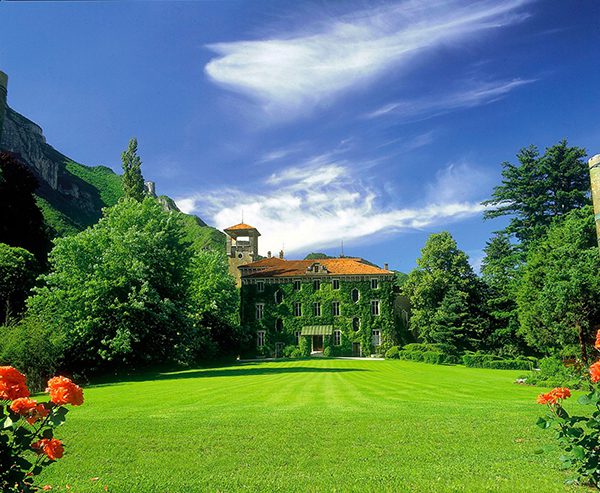 Vette di San Leonardo Sauvignon Blanc 2019
'Vette' is named after the surrounding landscape, the mountain peaks that rise above the Sauvignon Blanc vineyards. This is a complex, polished Sauvignon Blanc, a gastronomic treat at a great price. The long and warm ripening period lends intense flavours of peach and apricot, overlaid by a refreshing herbal quality and a neat mineral edge. Five months ageing on the lees adds texture and depth. One for lovers of Sancerre and Pouilly-Fumé.
Villa Gresti 2015
From a warm, successful vintage in the region, this highly-rated wine is superb value and the perfect introduction to the reds of San Leonardo. Made from 90% Merlot and 10% Carmenère, it has been fermented in concrete to give a rounder mouthfeel and has been aged for 12 months in new French oak. On the palate, layers of dark cherry and blackcurrant form a formidable core with fine, dusty tannins adding structure. A smokiness that comes from time in oak adds an extra element of intrigue. If you love right bank Bordeaux, you will adore this special treat!
San Leonardo 2016
This is the iconic wine of the estate and simply stunning with a velvety mouthfeel and impressive freshness. Deeper and darker than the Gresti, we find more earthy, spicy aromas with hints of allium and onion flower, a nice compliment to the dark berry fruit and licoricey flavour so common in classic Bordeaux blends. The wine has spent 24 months ageing in new, one-and two-year old French barrels and fermentation was in small concrete vats. Drink now or cellar for up to 30 years.