Vino Perfection: Winter Warmers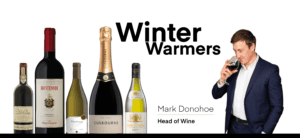 As we settle down for the frosty winter months, many people begin to reach towards richer red wines to warm the cockles on a cold night!
While there are many fantastic options in this category, at Classic Drinks we always believe in widening the lens and considering all wines to find the exact bottle for the right occasion or the perfect dish.
The below selection represents some of our go-to wines to match our favourite winter staples; from rich whites to crisp bubbles and warming reds, there is something for everyone and every meal!
Springfield Estate's 'Whole Berry' Cabernet Sauvignon 2019 (Robertson, South Africa) is a textbook example of a delicious, warming red. The wine is truly unctuous on it's own, offering notes of ripe blackberry fruit, black tea leaves, warming vanilla, cinnamon, banana and white pepper. It is even better with slow-cooked meaty stews, (especially beouf bourguignon if you're feeling fancy!).
One of my favourite dishes on a cold Sunday night is lasagne with salad and garlic bread. And if I'm feeling extra indulgent I will open a bottle of Castello Nipozzano's Single Vineyard Chainti Rufina Riserva 'Montesodi', 2016 (Tuscany, Italy). This single varietal Sangiovese wine expresses the best that Tuscany has to offer! Showing aromas of aromatic ripe, tart red cherries, green olives, ground dry spice all accompanied with notes of tobacco, dried rosemary and bay leaf. On the palate the wine offers crisp, mouth-watering acidity to match the tomatoes in the lasagne and firm elegant tannins to offset the meat of the Ragu. A fantastic example of how a (relatively) lighter red can be just as delightful on a cold night.
We love a rich, oaky white wine (especially one that doesn't break the bank) and Morgan Bay's barrel-aged Chardonnay, 2018, (Rutherford, California), is a fantastic example of how good this winemaking style can be without hurting the back pocket! With notes of ripe tropical fruit, caramel, white chocolate, coconut, and dill this full-bodied white wine is sensational with some Irish seafood chowder and thick brown bread with butter.
At Classic Drinks we have long-known that Kent, England (yes, England!) has been on its way to being one of the most premium sparkling wine producing regions in the world! We are so proud to work with Gusbourne Estate, in Appeldore. Their Champagne Method Brut Reserva, 2017 is a blend of Pinot Noir, Meunier & Chardonnay and aged in bottle for a minimum of 36 months. As a result the wine is rich, crisp, toasty and fresh with notes of citrus and red berry fruits, flaky pastry and clean, salty minerality. Heaven alongside chicken and mushroom pie.
And finally, not to forget the vegetarians of this world (or if we are simply taking a break from meaty dishes), a go-to favourite is mild butternut squash and chickpea curry with coconut milk and coriander. This is utterly delicious alongside a bottle of Olivier Ravoire Côtes du Rhône Blanc 'Banderet', 2018 (Rhône Valley, France). This Marsanne and Roussane blend bursts with notes of mango and papaya, which work in harmony with ginger and toasted pistachios!