The Classic Drinks team are excited to be exhibiting this Catex 2021.
Download our wine portfolio, enter our competition and don't forget to come see (and sample) at one of our demonstrations through-out the three day event.
---
Demonstrations at Catex
Join us at 11am, 1pm and 3pm daily to discuss and sample some of our portfolio favourites.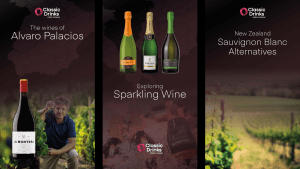 Download our 2021/2022 Wine Portfolio
We believe that wine is for everybody! Take a look at our 2021 portfolio that features over 700 wines sourced from all over the world.
---
Enter our Competition
In celebration of Classic Drinks at Catex 2021, we are giving away a case of wine per day to three lucky people! All you need to do is guess how many corks are in our glass jar?
*Winner will be chosen daily, based on the nearest guess to the correct answer. Winners will be contacted via email. Your details will be secured safely. T&C's apply.
Enter & Win this Catex 2021!
---
Check out our new Online Store
Sign-up and order via our new online ordering platform between now and November 8th to receive 5% off all orders over €300/£300.  T&C's apply.
---